Our awesome coach Jamie will be participating in the following event. Click on the picture to purchase tickets.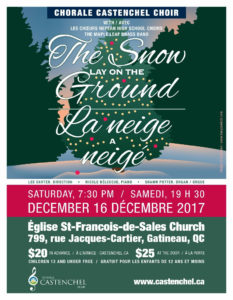 Castenchel will be celebrating the holiday season together with the acclaimed Nepean High School Choirs, the sparkling Maple Leaf Brass Band, and the talented organist Shawn Potter for a festive concert of classic carols and contemporary works.

This will be the second collaboration between Nepean High School and Castenchel, together the combined choirs will amass over 100 singers – half from Québec, half from Ontario with singers ages ranging between 15-90 years old. These collaborations are particularly important as they illustrate that passion for singing and good music can last a lifetime!

"I have been excited about this concert for almost a year now!" says Lee Carter, who has been the director of Castenchel for the past four years. "Brass and choir are such a sound of Christmas, and it's so rewarding to have an intergenerational choir of more than 100 voices singing together!", he said.  The concert will also be a premiere in the Ottawa/Gatineau area of Julian Wachner's 2015 "The Snow Lay on the Ground", nine traditional Christmas carols in brand new settings for choir, brass, percussion, and organ.

This year's Christmas concert will be a feast for the senses as Castenchel continues to showcase accomplished artists from across the National Capital Region.