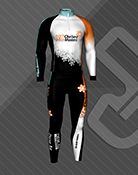 Team Clothing for 2017-18
Great News! The Jakroo online team store is ready for ordering your XCCM nordic team clothing items including technical shirts for dryland training or in the gym year round! Even better news! Our Canadian supplier, Jakroo, in Vancouver, are offering us all items at the 6-24 quantity price point despite the smaller numbers of members in our club. Jakroo is ready to take your orders as of Oct 16, 2017.  For all orders placed by: 7/11/2017, Midnight, PST, delivery will be scheduled for: 21/11/2017.  
Read the important information below before ordeing. When you are ready, your online store is ready for ordering at:  http://shop.jakroo.ca/XC-Chelsea-Masters
Important Information:
Tracking information will be emailed to you 2-3 days prior to your actual delivery date.  Please note, Jakroo always tries to beat their scheduled delivery dates.
FedEx typically delivers around 10:30 a.m. and requires signature release. Please contact FedEx for options of signature release for your delivery.
Reorder Mode: Affordable, bi-monthly delivery options that are great for new team members or replacing items throughout the season.  No minimums are required for re-orders, and items are discounted to the 2-5 quantity tier.
Sizing Information/Guaranteed Fit Service:  Jakroo recommends using their sizing and dimensional charts (links below), but encourages all customers to contact them for a personal fitting recommendation. To receive a personal fitting recommendation, please reply with the following data points (Height, Weight, Chest, Waist at belly button, Hips and inseam), or you may return this FORM : to Jakroo.
Please contact John Beriault, Country Manager at Jakroo, at john@jakroo.ca or call 1 877 252 5766 for personal fitting recommendations and other customer service needs.
The team uniform items include the following:
Thor Pro race suit (unisex)
Artic Warm-Up Jacket (unisex)
Buri Warm-Up pant (unisex)
Squall Vest (unisex)
Loki toque
Bodo buff
Endurance Short Sleeve Shirt (men's)
Endurance Long Sleeve Shirt (men's)
Athena Short Sleeve Shirt (women's)
Athena Long Sleeve Shirt (women's)
Instructions
Visit the online team store.
Consult the Jakroo sizing charts.
Choose the items you would like to order.
Pay for them using your credit card.
Place your order by 11/07/2017, midnight PST.
Delivery Date
Scheduled delivery will be 11/21/2017. Jakroo advises us to Keep an eye out for FedEx tracking information the week of your scheduled delivery date.